Recenze Comodo: Stručné shrnutí odborníka
Comodo má stabilní spotřebitelské antivirové produkty, které jsou dobře známy díky svým úhledným uživatelským rozhraním. Má však funkce, které odpovídají vizuálním náhledům? Testoval jsem Comodo Antivirus, Antivirus Advanced a Internet Security, abych to zjistil.
Bezpečnostní
Mezi antivirové nabídky Comodo patří bezplatný produkt Comodo Antivirus, stejně jako Comodo Antivirus Advanced, který nabízí okamžité odstranění virů a skenování v reálném čase, které kontroluje systémové soubory uživatelů proti těm, které jsou označeny jako škodlivé systémy uložené na cloudových počítačích.
Služba Comodo Internet Security, která je k dispozici ke stažení zdarma, poskytuje ohromnou škálu bezpečnostních funkcí na internetu, jako je ochrana před spuštěním (Default Deny Protection), "kontrola aplikací" (nástroj, který ověřuje, že na počítačích uživatelů jsou spuštěny pouze legitimní aplikace) pomáhá uživatelům rychle identifikovat legitimní soubory.
Program Antivirus Advanced poskytuje některé mimořádně působivé funkce, které zahrnují obchodní značku společnosti "Auto Sandbox Technology". Během testování pracoval tak plynule, že kromě zjištění grafiky Comodo bych netušil, že potenciálně podezřelý spustitelný soubor byl spuštěn ve virtuálním prostředí.
Firma je také jednou z mála antivirových společností, která nabízí bezplatný nástroj pro Linux (podporované distribuce zahrnují Ubuntu, Fedora a OpenSUSE). Nabízí také bezplatný antivirový program pro Mac OS, který nabízí okamžité skenování souborů, stejně jako možnost provést antivirové kontroly jediným kliknutím. Dovolte mi, abych to řekl takto: pokud jste uživatel desktopu, Comodo má pro vás bezpečnostní řešení!
---
Funkce
Produkty antivirového a internetového zabezpečení společnosti Comodo dokáží sdružovat některé skvělé funkce. S kutečnost, že směs nástrojů, které sestavili, by byla obtížná, ne-li nemožná, najít jinde.
Mezi těmi, kteří upoutali mojí pozornost, bylo toto:
Režim hry: Už jste někdy byli ponořeni do hry World of Warcraft a pak vaši pozornost přerušil v karanténě pop-up antivirového programu? Mě taky, a nebyla to legrace! Naštěstí antivirové programy společnosti Comodo nabízejí "herní režim", který potlačuje takové nežádoucí zprávy během hry.
Kontrola aplikací: Ne všechny antivirové programy mohou nabízet nástroje, které uživatelům pomohou procházet touto obtížnou oblastí mezi provozem funkčního, ale infikovaného systému a obnovením úplně poškozeného a odpojitelného systému z Live USB. Naštěstí společnost Comodo pokrývá tento rozdíl. Jeho kontrola aplikací umožňuje uživatelům uzamknout svůj systém a používat pouze programy, o kterých je známo, že jsou bezpečné.
Snadnost použití
Comodo skutečně jde o krok dále, aby uživatelské rozhraní bylo vizuálně přitažlivé a funkční.
Kromě funkce "Game Mode" jsem si oblíbil možnost iniciovat skenování jedním kliknutím, přesně říďte, kdy a jak se budou zobrazovat výstražné poplachy, a dokonce můžete vybrat téma pro stylování programu.
Zatímco někteří výrobci antivirových programů se spokojili s dodáním skvělého produktu pod kapotou, s potěšením oznamuji, že společnost Comodo nadále vytváří pro odvětví vysokou laťku, pokud jde o design UI.
Podpora
Podpora společnosti Comodo je zaměřena na internetový portál, který zahrnuje jak záznamový systém, tak i okno živého chatu. Comodo může být oprávněně hrdý na svou zaslouženou reputaci reakce: většina tiketů dostane odpověď během hodiny (moje trvala méně) a dostal jsem se k užitečnému zástupci na živém chatu za méně než deset vteřin.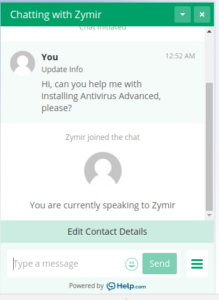 Comodo Live Chat je vždy rychlý a zdvořilý.
Pokud je vlastní pomoc vaší záležitostí, společnost také udržuje skvělou znalostní základnu a aktivní fórum uživatelů, stejně jako telefonickou a e-mailovou podporu – se specializovanými podnikovými kanály. Opravdu všestranná nabídka!
Ceny
Ze tří produktů, se kterými jsem si hrál, je pouze produkt Advanced Antivirus 10 placený produkt. Pro působivý výběr funkcí a trvale dobrou podporu je to spravedlivé řešení – zejména na úrovni ochrany 3 zařízení a při upisování po dobu 3 let.